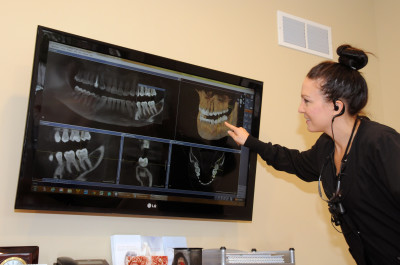 Smile Makeovers in a SNAP
By simply taking your picture, our smile experts can show you hundreds of ways to improve your smile. There's no obligation and it takes only seconds!
How It Works
After taking your photo, we use SNAP digital equipment to virtually change any feature of your smile in real time! If you've considered anything from minor tooth irregularities to a complete smile makeover – SNAP is an excellent way to envision the outcome before you invest in it. With SNAP, you can see:
Your smile with whiter, brighter teeth
The outcomes of a full mouth reconstruction
The impact dental implants and veneers can have on your smile
A different shape or size of irregular teeth
Your smile without spaces or gaps
See the Results Before the Treatment
Remarkable detail allows your virtual smile makeover to look exactly like it would after your cosmetic treatment. With the click of a button, you can take your "before and after" pictures home to show your family and friends. SNAP makes your cosmetic decisions stress-free!
Achieve Your Smile Today
Whether you want to change one tooth or change them all, there's no more guessing as to what it will look like. No need is too small or too comprehensive! Call us to book a no obligation smile analysis today.