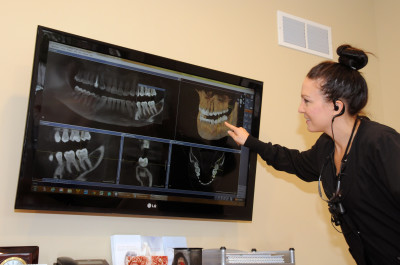 Taking Dental X-Rays to a Whole New Level
At Linden Dental Associates, we've implemented the most revolutionary radiography techniques available. Our on-site 3D CT beam technology gives us a more comprehensive view of your mouth than ever before.
The Power of 3D Imaging
Using remarkable Cone Beam CT methods, we can quickly plan for even the most complex care cases. The easy process is completed right here in our office using the latest radiography equipment available in dentistry. With it, we can:
Make a virtual plan for dental implant placement
Identify if a bone graft is necessary
Discover certain infections and pathologies (like cysts and cancers) that are harder to spot with traditional 2D xrays
Quickly capture a 3D image of your mouth and face
Safely record data with minimal radiation
Provide a highly accurate prosthetic treatments
Analyze eruption patterns for orthodontic concerns
Evaluate wisdom teeth
No Referrals Necessary
Our certified 3D CT radiography staff use our on-site equipment to record all data right here at our facility. There's no need to go off-site or to another provider to have your Cone Beam image made. In fact, many people come to us for affordable imaging!
The Next Step in Dentistry
Why see a dentist who uses out of date technology when you can have faster, shorter, more precise treatments at Linden Dental Associates? Contact us today to schedule your appointment!