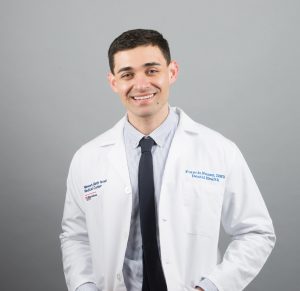 Meet Dr. Francis Nunez
Dr. Francis Nunez is a board certified General Dentist and joined Linden Dental Associates in 2017. Dr. Francis Nunez grew up in West Orange New Jersey. As a child, he had a great experience with his family dentist and became interested in dentistry. He attended Montclair State University, where he graduated Magna Cum Laude with a degree in molecular biology. He then went on to receive a dental degree from Rutgers School of Dental Medicine.
While in dental school, Dr. Nunez participated in several organizations and organized volunteering events for the local communities. He would often travel to conferences and received several patient and academic awards. Dr. Nunez was selected as an ambassador to guide new dental students during their admissions. He enjoys his profession, and strives to help his patients through their treatment in an easy and comfortable manner.
Dr. Nunez is a highly trained dentist professional. He had completed a one-year dental residency program at Newark Beth Israel Medical center, and continues to participate in continuing education courses to provide the best possible care possible. He is an active member of the American Dental Association, the New Jersey Dental Association, the Essex County Dental Society, the American Academy of Implant Dentistry, and the Academy of General Dentistry.
He enjoys running, spending time outdoors hiking and fishing, and would like to learn to play the guitar.