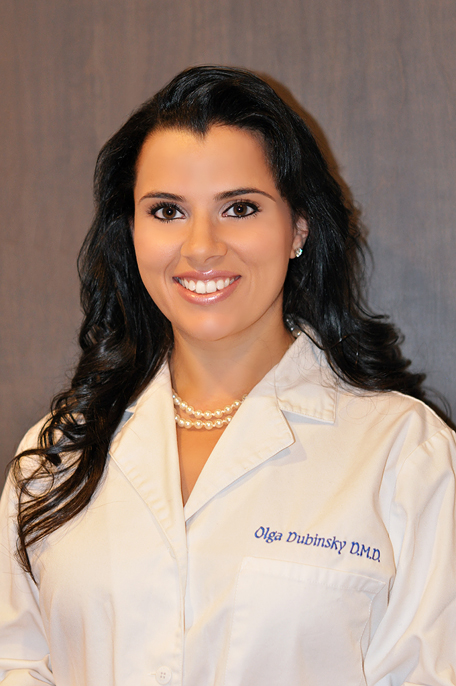 Meet Dr. Olga Dubinsky
Dr. Olga Dubinsky is a gentle, caring and dedicated practitioner who places her patients at the center of her dentistry. She sees her role as a health care provider above all else, committed to providing the highest quality care. Once she entered college she became passionate about changing the experience many people expect at a dental office and went on to pursue dentistry.
Dr. Dubinsky graduated from University of Medicine and Dentistry of New Jersey (UMDNJ) with a degree Doctor of Dental Medicine (D.M.D) and went on to complete her Residency at Newark Beth Israel Hospital. Dr. Dubinsky was an active member American Association of Women Dentists where she served as Secretary and Vice President. In 2008, she was elected President and received an award for her commitment to the association. She was also awarded a Leadership Distinguished Service award and Helen & Rita Lurie Foundation award while attending UMDNJ.
Dr. Dubinsky is a board certified dentist as well as an active member of the American Dental Association, the New York State Dental Association, and New Jersey Dental Association. She consistently ranks as one of the top dentists in New Jersey and has received a top dentist award for 3 consecutive years.
Dr. Dubinsky specializes in all phases of general, restorative and cosmetic dentistry including placement of dental implants. She is a firm believer in using continuing education to complement her clinical experience and staying current with new materials and techniques in the rapidly evolving dental field. Patients love her warm and friendly nature and "gentle hands".
Olga is married, and has three children. In her spare time, she likes to read and travel.