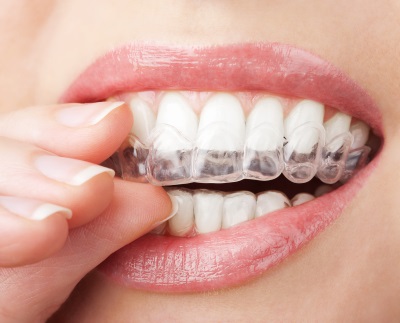 What is Invisalign?
Are you considering braces? Invisalign is a type of orthodontic treatment that helps to straighten teeth without the use of the typical metal braces. Invisalign is a series of custom-made clear plastic aligners that help shift your teeth into the proper position. These aligner trays are made of smooth, comfortable and virtually invisible plastic that you wear over your teeth. There are no metal brackets to attach and no wires to tighten. You just put in a new set of aligners approximately every two weeks, until your treatment is complete. You'll achieve a great smile with little interference in your daily life. The best part about the whole process is that most people won't even know you're straightening your teeth.
Invisalign advantages over braces:
Straightens your teeth
Allows you to eat whatever foods you enjoy
Lets you remove the device when you want
Lets you enjoy virtually invisible teeth-straightening
Allows you to brush and floss your teeth normally for better periodontal health
Consists of smooth, comfortable plastic instead of sharp metal that is more likely to irritate your cheeks and gums
Frees up your busy schedule, with office visits only every four to six weeks
Invisalign Teen®: Provides up to six free replacement aligners if lost or broken*
*Invisalign Teen only.
Devoted to all aspects of oral health, we are your friendly smile
experts. That means that you'll be treated with the very best care
using the most innovative technology in an extremely efficient
environment. Want to know how we can serve your family?
Contact us today!