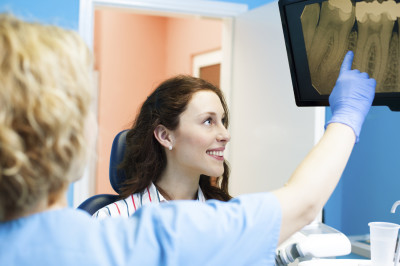 Digital X-Rays 
At Linden Dental Associates, all of our imaging is digital. This provides you with safe high-resolution images which give you an up close view of your dental condition.
Safe and Comfortable Imaging
Once the image is captured, it is instantly displayed on a high definition monitor in the treatment room. Here we can look together at the health of your mouth, and co-diagnose conditions such as:
Bone loss / periodontal disease
Abscesses
Tooth wear
Cysts or infections
Cavities between the teeth
Leakage around other restorations
How deep a cavity has penetrated the enamel
The best part about digital radiography is that it's comfortable and safe! No more biting down for an uncomfortable traditional x-ray, and substantially less exposure to potentially harmful radiation! In fact, radiation is reduced by as much as 90% with some digital x-rays.
Spend Less Time in the Dental Chair
Since digital radiographs do not require chemical processing, they speed up your appointment –  shortening your wait by 5-10 minutes! Ready for a modern dental experience?  Contact us today to schedule your appointment!