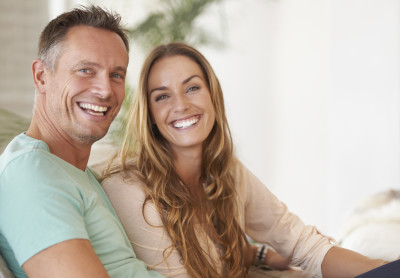 Professional Smile and Teeth Whitening
In-office and at-home options for a brighter, whiter teeth.
Are you a fan of sodas, coffees, and spicy foods? Over time, consumption of these beverages and foods may have led to a dull, less-than-perfect white smile. With our smile whitening options, you can overcome the impact everyday foods, drinks, tobacco – even aging! – have on your smile.
Whiten your teeth in our office!
In a comfortably scheduled appointment, our smile experts will discuss your whitening goals and administer ZOOM® whitening to substantially brighten your smile. In-office whitening gives you:
The safest, most effective form of teeth bleaching
Immediate and noticeable improvement in the whiteness of teeth
Prevent gum and tooth sensitivity caused by over-the-counter whitening products
Applied in a conveniently scheduled appointment by a whitening specialist
Control the "evenness" of your whitened smile
Want to whiten your teeth at home?
We offer professional-strength at-home whitening programs! You will be given a tray system, custom made to match the impression of your teeth, and a powerful whitening bleach. Compared to over-the-counter whitening products, our take home trays:
Provide a consistently brighter smile
Whiten hard to reach areas of your teeth
Clean, mess-free application
Comfortable wear while whitening
Whiten your teeth at your own pace
Stop fumbling with messy, annoying and sometimes painful
over-the-counter whitening strips. Schedule a whitening
appointment with us today!