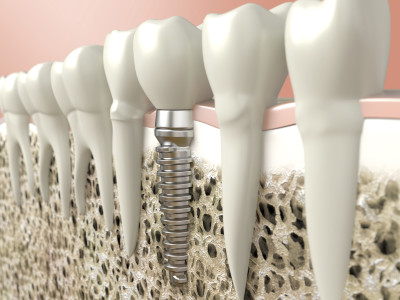 Replace teeth with dental implants

Linden Dental Associates places dental implants in-house, saving you the hassle of finding and visiting a third-party specialist.
Widely considered to be the next best thing to natural teeth, dental implants are artificial replacement tooth roots. Dental implants offer the following advantages as a replacement tooth solution:
Long lasting – 20 years or more
Natural functioning – just like original teeth
Ideal strength – strongest replacement option
Protect other teeth – no need to reduce surrounding teeth
Best performance – improved speech and chewing capabilities
Improve appearance – prevent the face from shifting or changing appearance
Highly successful – the highest success rate of any dental treatment
Made of a titanium rod, implants are surgically placed in the gums to provide a strong foundation for fixed or removable replacement teeth. A crown or bridge is affixed to the top of the implant to provide a natural-looking, dependable, beautifully-restored smile.
Why Linden Dental Associates?
While many dental offices advertise dental implant treatments, they rarely place the implants themselves. Most dentists refer patients out to implant specialists, which can be expensive and inconvenient.
That's not how we work at Linden Dental Associates. Dr. Kim and Dr. Dubinsky are both specially trained in the placement and restoration of dental implants. We utilize cutting edge 3D technology to assess the environment for implants and deliver amazing results. We maximize healthy bone structure and recommend a conservative approach.
Inadequate bone structure may not disqualify you from implant placements. We can also perform bone grafting procedures to give structural support as needed. At our practice, you always have options!
Do you need to replace teeth?
Teeth are often lost due to decay, gum disease, or traumatic injury. Teeth may sometimes be extracted to prevent dental complications. Sometimes, patients undergoing aggressive medical treatments lose their teeth as a result of their treatments.
Whatever your particular case, we would to discuss a treatment path appropriate to your needs. Contact us today to schedule an exam with our specialists.