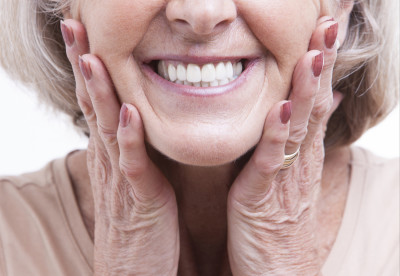 Full-Service Denture Shop
If you're missing several teeth or have an older style of denture that isn't working out for you, we can accommodate your needs with our full menu of denture solutions.
New Denture Options
Dentures depend on a custom fit for maximum comfort and impact. Dr. Thompson and Dr. Hoellrich take careful impressions and create custom-fitting dentures that are comfortable to wear and easy to clean. Here's how we help:
Removable Full Dentures
Full dentures are used to replace all of the teeth at one time. The denture covers the entire arch and is secured using suction against the mouth's natural anatomy.
Partial Dentures
To maximize the health of teeth that are still present, a partial denture replaces only the missing teeth while clasping around other teeth for support. Partials can be used to replace only a few or several teeth at one time.
Implant Anchored Dentures
From dentures that snap onto dental implants for easy removal, or dentures that screw into dental implants for a more permanent placement, we can help keep your dentures secure and feel more natural. Learn More
Come and See Us!
Curious about dentures? Looking for a comfortable solution to
replace missing teeth? We'd love to see you!