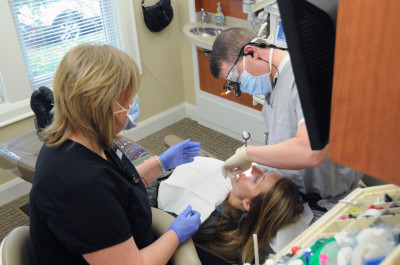 Experience a Perfect Smile
If a minor dental imperfection is causing you to feel self-conscious about your smile, dental bonding is a quick and easy solution. Using a composite tooth-colored material, our team can gently:
Fill in small gaps between teeth
Make teeth appear longer
Change the shape of teeth
Whiten significantly stained teeth
Improve the look of discolored teeth
Repair teeth affected by minor decay
Fusing natural tooth enamel with bonding materials (such as porcelain and resin), a tooth-colored bonding material is created. This material is applied to teeth in sequential layers. Each layer is brushed into placed and "hardened" with exposure to a harmless, high-intensity light.
Once the final layer is applied and hardened, the tooth is gently polished and sculpted. In less than sixty minutes, patients walk out the door with a natural-looking, symmetrical smile!
Schedule a Bonding
Appointment
Our bonding options and procedures are designed to deliver a
more radiant smile. Contact us today and schedule an
appointment to discuss your options.