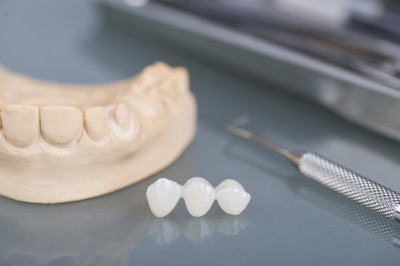 Rebuilding Smiles with Fixed Bridges
Dental bridges are just one method we employ to restore beautiful smiles.
Fixed dental bridges replace one or two teeth with a permanent restoration. The replacement apparatus is supported by healthy neighboring teeth and fitted for comfort and function. With a dental bridge, our smile repair experts are able to:
Replace one or two missing teeth
Repair both front-facing teeth and teeth in the back of the mouth
Provide an alternative to more extensive tooth replacement options
Permanently anchor artificial teeth in place
Closely match the color of existing teeth
Natural Form
By design, dental bridges function similar to 3 or 4 porcelain crowns bonded side by side. The crowns on either end of the restoration are anchored onto abutment teeth, with the false crowns suspended between.
How Treatment Works with Dental Bridges
A bridge operates by anchoring a porcelain crown to two healthy teeth, creating a restoration that looks and functions like a natural tooth.
To create your dental bridge, our team will take a mold of your teeth so that our lab can create a custom-fitted restoration. Carefully selecting a material that resembles that of the tooth's natural color, a fixed bridge is designed with safe and long-lasting materials. You will return within two weeks and have the bridged bonded into place by our dentists.
Let's Rebuild Your Smile Today!
Are you missing teeth? Find out if you're a candidate for a dental
bridge by calling us today! No smile need is too big or too small –
Linden Dental Associates has something for everyone.